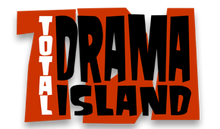 My Total Drama Island is the first season of RuleroftheBisons97's My Total Drama series. It takes place on an island in Muskoka, Ontario. The season involved twenty-two sixteen year-old contestants and twenty-two episodes (plus one special). This season's main protagonist is TBA and the main antagonist is Heather.
It is not proceeded by any season and is succeeded by My Total Drama Action.
Overview
Episode count: 22 (+1 special)
Player count: 22
Main protagonist: TBA
Secondary protagonist: TBA
Main antagonist: Heather
Secondary antagonist: TBA
Winner: TBA
Characters
Episodes
Teams
Screaming Gophers
Killer Bass
Ad blocker interference detected!
Wikia is a free-to-use site that makes money from advertising. We have a modified experience for viewers using ad blockers

Wikia is not accessible if you've made further modifications. Remove the custom ad blocker rule(s) and the page will load as expected.